VisiWave Site Survey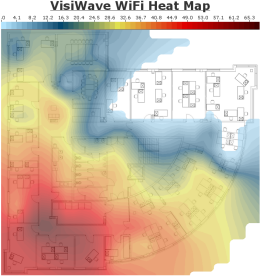 VisiWave Site Survey is a complete 802.11a/b/g/n site surveying solution. You collect survey data using a standard wireless adapter while walking around the survey area clicking on a floor plan image, using a GPS receiver to track your location, or using a customized navigation device. VisiWave quickly and automatically maps out radio characteristics in the survey area using either the included reporting application or by integrating with Google Earth. These allow you to easily assess your overall Wi-Fi coverage and to drill into great detail on specific areas of interest.
VisiWave is an effective tool for performing surveys inside buildings, outside on campuses, city-wide hotspots, already deployed wireless networks, or pre-deployment sites.
Overview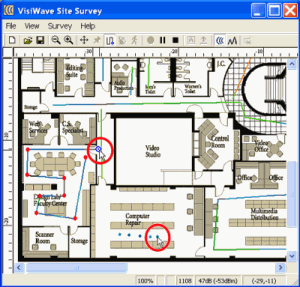 Walk or drive the survey area (building, city block, campground, restaurant, airport, campus, ...) collecting 802.11a/b/g/n Wi-Fi data--or interference data using the optional Wi-Spy spectrum analyzer.

Design a report using the built-in reporting tool to create a custom report or re-use an existing report template. Or have VisiWave produce a KML file for viewing within Google Earth.

Generate the report in PDF or HTML format. Or, bring the data into Google Earth for an interactive view of your coverage.

Show off the results! Show the visualized wireless coverage to your boss, clients, peers, community, etc.
Survey Data Collection
VisiWave Site Survey is a complete Wi-Fi site surveying solution. Site surveys are performed more simply and quickly than competing products and produce more informative views of your wireless coverage.
The process of collecting site survey data is simplified by using a Windows laptop computer, a standard wireless network adapter, and an image of the survey area. You keep track of your location by clicking on the survey map image displayed on the computer's screen. As you walk around, every time you click on the display VisiWave associates the current radiowave characteristics with the location you clicked on the survey map. You can also use a GPS device to track your location. Just plug in the GPS device and tell VisiWave to start collecting data.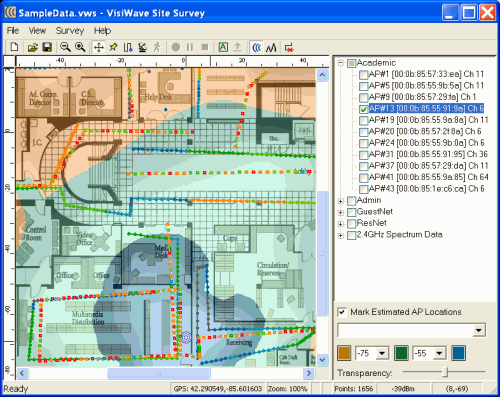 While data is being collected, a heatmap of your wireless coverage is drawn on top of a map of your survey area. You can immediately see all the access points and SSIDs discovered. Select any subset of access points to immediately see the coverage provided by those radios.
Wireless Report and Analysis
Merely making it easy to collect site survey data is only half of what VisiWave Site Survey has to offer. Once you have collected that mountain of information, you need to easily interpret the data. This is accomplished by either using VisiWave to create reports and analyze your coverage or by creating a report that is viewed using the Google Earth viewer. Either way, you get rich and easily comprehensible views of the complex and voluminous data captured during a site survey. This allows you to quickly assess your overall coverage and to drill into great detail on specific areas of interest.
As an interactive analysis tool, VisiWave brings your site survey data to life. You are able to make small changes to your view of the data that immediately highlight significant characteristics of your wireless coverage.
In addition to being able to interactively analyze the site survey data, you can easily produce a comprehensive report of your findings. Using a set of standard views, supplemented by any interesting views you find during your analysis, you can create a professional looking report that documents the survey area's wireless coverage. In addition to the supporting graphs and tables automatically generated by VisiWave, you can integrate your notes, interpretations, and written analysis of the site survey results. The report is published as a PDF file or as an HTML web page. Either can easily be provided to your client or colleagues as documentation of your site survey.
Here are several views available to you during analysis and for your site survey reports.
Visualize Wi-Fi Coverage using Google Earth
With VisiWave, you can use Google Earth to visualize your wireless networks. VisiWave directly creates a Google Earth KML file that fully depicts your WiFi coverage within Google Earth's free viewer. You can tilt, spin, and fly your way around graphic representations of your network's wireless characteristics within Google Earth.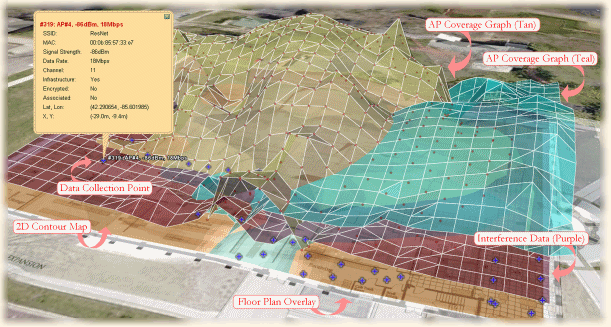 Click on the above image for a larger sample. Or, if you have Google Earth installed, click here to view a fully operational sample site survey in Google Earth or click here to view a smaller example.
Wi-Spy Support
VisiWave integrates tightly with MetaGeek's Wi-Spy™ spectrum analyzer device. Plug in a Wi-Spy and VisiWave automatically uses it to get an accurate interference reading for your survey area. Or use a Wi-Spy to create an interference graph that clearly shows any problem areas. Then use either Chanalyzer or Chanalyzer Pro to investigate any potential interference locations.
Summary
Complete Wireless LAN Site Survey Solution
Runs on a standard Windows laptop computer
Uses standard 802.11a/b/g/n wireless network adapters
Google Earth Integration
Spectrum analyzer support for true interference detection
GPS support for collecting data
Effective for office buildings, warehouses, cafes, city-wide hotspots, campuses, and most any Wi-Fi deployments
Simple location tracking by clicking on a floor plan image
Instantious or continuous radiowave data collection
Very affordable product for mapping your wireless coverage
Automatically maps out your wireless network
Additional Information